When you think about a diet to help kickstart losing weight, the last thing that might come to mind would be chocolates and wine. This could be because diets are always associated with leafy greens, lean meat or other plant-based food items. Fortunately, there is a new diet formulated for those who want to keep their chocolates and actually eat them. So far, it has had a lot of positive reviews.
What is the Sirtfood Diet?
The latest breakthrough in dieting that has everyone talking since the post-holiday season is a diet reach in sirtfoods. Researchers say that this special diet works by constantly feeding on food rich on sirtuins, which are more common than you might think.
When sirtuins get activated, they are able to protect cells from dying when under stress. It is also said that they work against inflammation, promote a faster metabolism and slow down the aging process. When done right, one can lose around 7 pounds in just one week while retaining muscle mass with the Sirtfood diet.
What Does This Diet Include?
This diet does not appear to be restrictive, as a list shows that it is based on food items most people already regularly consume.
While consuming red wine and chocolates and claiming to be on a rigid weight-loss journey would likely make you the butt of jokes, it is important to point out that you can't also just consume what you want. The diet involves a two-phase approach. The first would last a week. This is when you restrict calories to 1000 kcal for three days while consuming three sirtfood juices and one meal a day that is rich in sirtfoods. When one reaches day four, the calorie intake is increased to 1500 kcal and one would consume two sirtfood juices and two meals that are rich in sirtfoods until day seven.
Where Did the Sirtfood Diet Come From?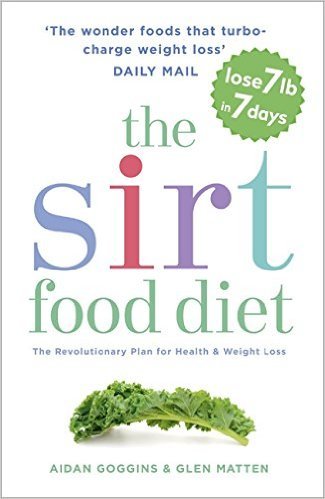 Marie Claire UK reports that the sirtfood diet is the brainchild of authors and health consultants Aidan Goggins and Glen Matten. These two were always focused on healthy eating rather than weight loss, which a lot of people confuse for each other. In their book, "The Sirtfood Diet," these experts lay out a plan that involves drinking up three sirtfood juices a day, as well as eating meals that are equally rich in such.
With that, some might ask how different this is from other diets. Going back to its roots, the creators were not oriented towards aggressive weight loss when they first made this. The sirtfood diet is perfect if you want to simply boost your immune system, since it is packed with a lot of vitamins and nutrients.
What A Dietician Says About the Sirtfood Diet
When asked about this new fad, dietician Emer Delaney said that this would not be a diet that she would advise her clients initially. This is mainly because aiming for 1000 kcal for three days straight would be very difficult and most people would not be able to achieve it.
While the types of food on the list would be what are accepted as healthy, it would be keeping in line with a balanced diet. Having a small amount of chocolate or a glass of red wine every once in a while would not do any harm to anyone, but they could not be recommended on a daily basis. Sticking to the food on the list might also lead to some nutrient deficiency, since there are nutrients that can only be found on other food types not on the list.
While a seven-pounds-a-week weight loss could impress most weight watchers, dieticians note that this would mostly be fluid. Fat would not drop that fast and it takes a lot of time and patience to start burning it. With this, diets that promise aggressive fat burning are not always the way to go.
One should not also get too excited after losing two dress sizes. Most people get cocky after achieving this feat and once they return to their regular eating habits, they end up weighing even more than when they started.
Shedding pounds or an inch or two off your waistline might be a highly attractive proposition. However, just as with all diets, it would be best to consult a physician or a dietician before attempting such a restrictive regimen. When in doubt, it is still best to stick to the regular balanced and healthy eating habits.