Who needs green juices and protein shakes if you could work out with wine? Well, actress Kate Hudson definitely proved that bottles of rosé could help anyone who's trying to get fit. Rosé is actually a type of wine that incorporates some of its colors from the skin of the grapes, however, it's not as rich as red wine. It is also one of the oldest types of wine that have reddish pink shade.
Most people praise Hudson for having such an amazing physique and they often wonder what her secrets are. She actually shared one of them on her social media profile.
KATE HUDSON'S LATEST ARM WORKOUT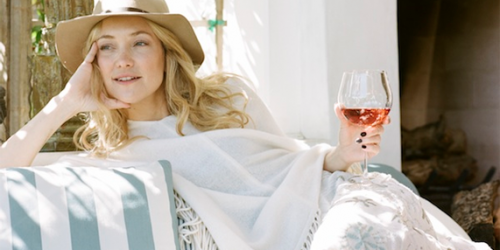 The 38-year-old actress shared her secret when it comes to having such good-looking and fit arm. People always wonder how celebrities manage to have such nice arms especially when they walk the red carpet. Well, maybe not all of them have the same secret because Hudson is sure to have such unique arm workout. In her recent Instagram post, Hudson demonstrated an arm workout video with her trainer, Nicole Stuart. It seems so normal until you actually notice one peculiar object.
Instead of normal weights, Hudson was seen to have been using two bottles of wine while doing some bicep curls. She even captioned it as, "Sometimes you gotta work for it!"
KATE HUDSON FITNESS TIPS
During an interview with Harper's Bazaar, she also shared a couple of tips and tricks when it comes to eating well but at the same time staying fit.
"I'll just want to stretch and do more of a hot yoga-type situation, sometimes I want to sweat it out and do more cardio, spinning. But my go-to's are Brazilian Butt lifts," Hudson shared. She also mentioned about having a rule book of eating alkaline, wherein she cheats whenever she wants and that she doesn't necessarily cut out food that she loves.
Hudson's Instagram page surely speaks for itself especially when it comes to her staying fit. She definitely aims to inspire people to get fit and live a healthy lifestyle, she even has her own line of workout clothes and other activewear called Fabletics by Kate Hudson.
WINE HEALTH BENEFITS
Wine is most definitely not just for working out used as some sort of dumbbell, it has its own health benefits. So here are some of them:
• Promotes Longevity
According to a study conducted by scientists from Finland, wine drinkers have a 34 percent of lower mortality rate than those who don't drink wine and those who prefer spirits or beer. This is a result of a study wherein they have gathered 2,468 men in 2007 and it was published in the Journals of Gerontology.
• Stronger Bones
According to a recent study, women who actually drink wine moderately have higher home mass than abstainers. This is because alcohol was revealed to have the ability to boost estrogen levels, which are the hormones that slow body destruction of old bones.

• Better Immune System
A British study revealed that people who drank a glass of wine a day, have lower chances of the risk of infections and can fight bacteria by 11 percent. It can guard the body against ulcer, gastritis, as well as fight germs such as salmonella.
• Cuts Risks Of Cataracts
Who would've thought that wine could actually help your eyes? According to a study published as Nature, people who drink wine moderately are actually 32 percent less likely to get cataracts compared to people who don't drink at all. This is based on the 1,379 individuals from Iceland who are all part of the study.
No matter what kind of tricks you have up your sleeve when it comes to staying physically fit, you must make sure that you are going through the right path and not just wing it. It is ideal to have yourself checked by a nutritionist or a dietitian before you do any type of diet or workout, you could also hire a personal trainer if you can afford it. Also, keep in mind that not every diet or workout will work for everybody, some people do trial and errors to see what really works for them, after all, there is absolutely no harm in trying especially if you got nothing to lose.