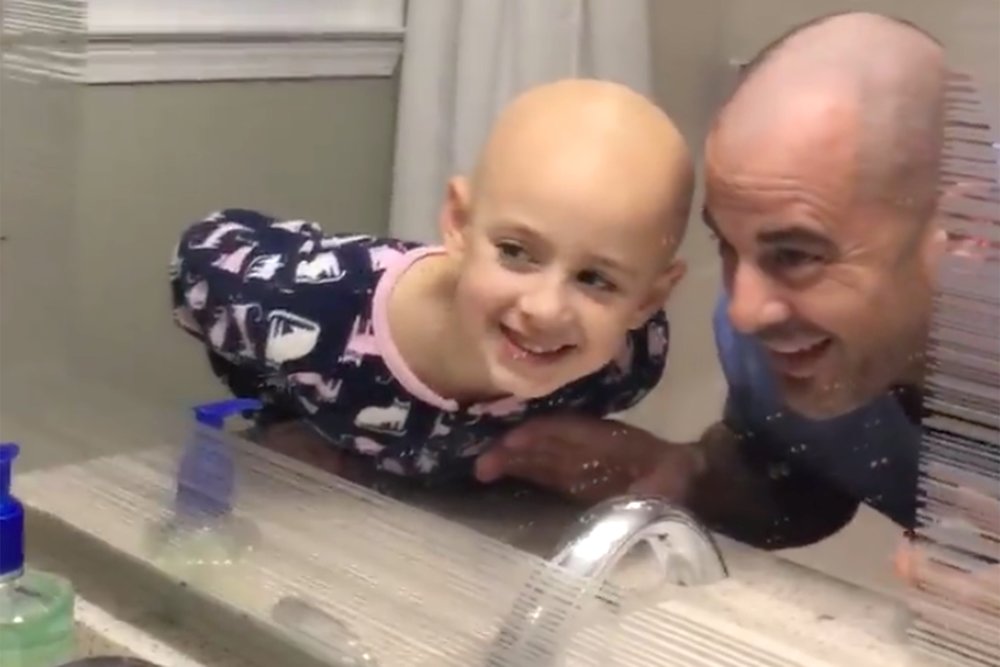 Father Supports Bald Daughter With Alopecia By Going Bald Himself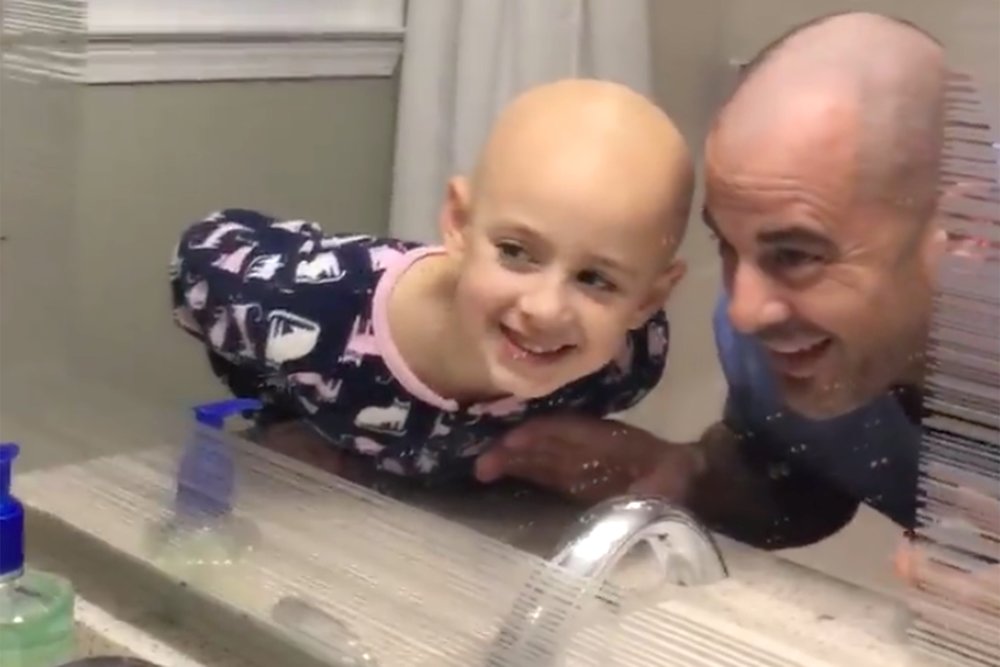 You probably must have heard of so many diseases but is Alopecia totalis among them? Alopecia totalis is a dermatological disorder that affects the skin and results in loss of hair. In other words, alopecia totalis makes the patient become totally bald on the scalp.
Far away in Rhode Island, precisely in Bristol, a beautiful 6-year-old girl by the name Riley Sylvaria suffers from alopecia totalis. Riley was not born hairless, and she enjoyed her beautiful hair until this disease hits her and gradually, strands by strands kept falling off her scalp until, at 15 months of age, she became completely bald.
Despite this challenge, Riley still has the full emotional support from her parents, Dave and Chelsea. They stood by her and tried to motivate her spirits so that she can build her self-esteem and inner strength regardless of her hairlessness.
Nonetheless, it hasn't been easy for her. Not quite long ago, something special happened. During a competition in gymnastics, Riley blurted to Chelsea a deep sorrowful secret she had kept to herself for long. She could not bring herself to love herself, and she was fed up with trying to pretend.
This confession made Chelsea dumbfounded. She admitted on her social media handle that Riley really broke her heart. She asked her daughter to explain better what she meant by such statement. Flashing back on the emotional incidence, Chelsea said her poor child replied that she detested herself because she is bald and she knew that she is odd out of the cycle of her peer.
Chelsea had already sensed this, but she chose to ignore it because she and Riley's father, Dave, believed Riley was indifferent about her health condition since she never talked about it or even showed any sign of worry.
Dave was informed about their 6-year-old child's sad confession and his fatherly instincts set in. An idea struck and his wife supported him in his plans, but the interesting part was that he didn't even have any knowledge of it.
He went straight to have a heart-to-heart talk with Riley, and while he was at it, Chelsea caught the adorable moment on camera. She said Dave was not aware of the recording, and she wasn't sure of the use of the video herself. She just did it on impulse.
The video showed Dave sitting with Riley and gently asking her the reason behind her feeling of resentment towards herself. He put her mind to rest on the unshakable love he and Chelsea have for her. He complimented her on being a unique girl and the most cherished human being earth. Her looks are not dependent on whether she has strands of hair or not.
At that point, he shocked her by asking a question.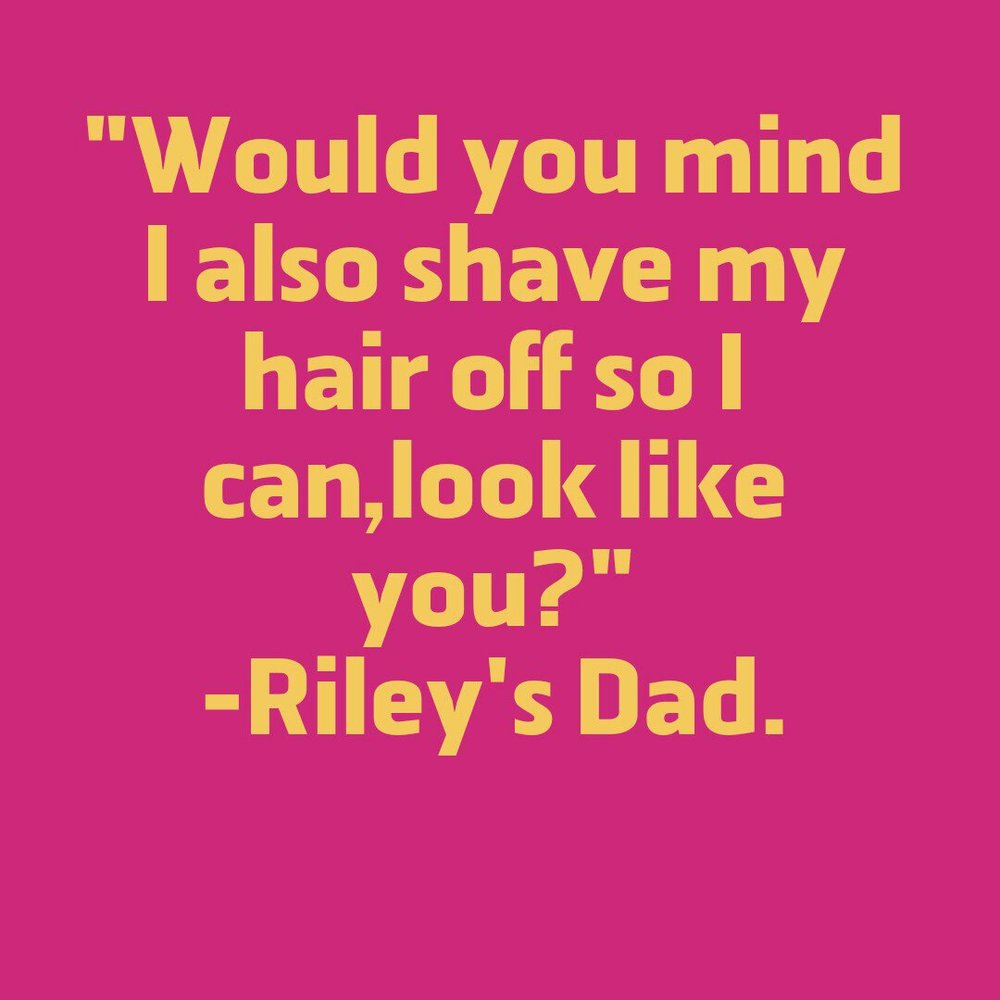 Riley was speechless for some minutes but later excitedly agreed. She followed him to the bathroom and right there in her presence, he shaved off every bit of his hair. She also offered him a helping hand. That was all that Riley needed to make her self-esteem fostered. She felt absolutely better about herself and completely let go of sadness about her hairless head.
Chelsea who was watching secretly behind her camera said that Riley brightened up from that moment on. Her strong love for Dave grew much more, and Chelsea respected her husband better than before.
Riley's mother went on to post the video along with the story on her Facebook wall, and it reached more than 28,000 people. The amazing responses she got was unexpected. She was astounded at the support she received from people, and she believes that the video will serve as a good campaign strategy to teach the general public about the disease.
Chelsea wished to present her daughter to the world as a unique girl with her special attributes. She wanted them to see her struggles and fight every day to live with alopecia totalis. She concluded her caption on the video by writing that she anticipated seeing the visuals having a positive impact on other people out there who might be going through similar circumstances. She admonished the readers to make everyone feel appreciated for themselves regardless of each person's short-comings because everyone is beautiful in their ways.